5 tags
Trying to get in the good graces of anyone who can...
productionassistants: Working in LA: the gif image
13 tags
BUDGETING MY TIME
howdoiputthisgently: I found this incredibly relevant as today has been my first official day on my own in Los Angeles.  My roommate went to work and I unpacked my last few boxes while watching season 1 of Buffy of the Vampire Slayer.  It was classic and a great start to the day.  My bedroom looks like a room!   But, after I finished unpacking, is where I went horribly wrong. I can't...
24 tags
Blogging from the West Coast
I'm not going to lie to everyone.  I do not understand what blogging is, nor do I understand the concept of posting things. I don't know how to re-blog favorite OC moments. I don't know how to link to other people's amazing blog posts. I don't even know how to search for things. The entirety of generation Y will probably be very disappointed in me.  I do think I have...
16 tags
Italia: Dove sei?
It has been a little over a month since I've returned home from my 4 month adventure in Italy.  I'm aware that my blogging stopped around halfway through, which is unfortunate. I still have some final videos to make. They'll happen. At some point. Some day. I'm currently taking two online courses for school and working part-time as a pool lifeguard. That's a whole...
"I would go, but that would require me to put on pants again…and I'm..."
– Kristen the roommate.
Things that have Broken While I've Been In Italy
1. my pocketbook 2. my sunglasses 3. my lap top 4. my lap top's battery charger 5. my necklace 6. the charm on my necklace 7. my jeans 8. my feet I think I need to go home.
What you've missed
March 19th-21st: Dublin, Ireland March 22nd-23rd: Brussels, Belgium March 24th-26th: Berlin, Germany March 30th-April 2nd: Barcelona, Spain April 9th-April 10th: Sorrento, Pompeii, Capri; Italy April 15nd-April 17th: Olbia, Sardegna; Italy April 22th-April 25th: Licata, Sicily; Italy Unfreakinbelievable.
My favorite English word to hear Italians say
Explain (verb): to give the reason for or cause of Pronounced: literally exactly how it looks… EX-Plain. Or, X-Plain. Or, even, IX-Plain For Italians, however, Pronounced: éssplain
I stopped blogging and my computer broke
One week ago, I was on my laptop when it started flickering and freezing and being a pain in the butt. After keeping it off for the rest of the day, I proceeded to turn it back on in the evening and see if it would let me watch Modern Family. It had worked. Success! I got to watch 10 minutes before it froze again. Another 2 minutes later, the laptop was toast.  I'm going to skip over the...
Once a week, or once every 2 weeks, I will walk over a mile just to put my newly-washed jeans in a dryer, so that they won't fall off my butt while I walk everywhere else. This is dedication people.
9 tags
Culture Shock not shocking enough?
It's been so long since I've blogged that I forgot my account name.  So, I should be able to update lots tomorrow and later this evening, but since returning from my spring break, I have entered midterms part two.  I had a paper due yesterday and I have a paper due later today, as well as a presentation on a film.  Then, tomorrow evening, I fly off to Barcelona with Lauren. My...
Like any other morning, Kristen and I ventured to our 12pm classes. And, as per usual, we got stuck behind confused, dumb, people. As I struggle to walk with Kristen behind the unassuming couple,  I prepare to make my go-around.  This is something we're used to doing as this is what normal Italians do. They spot something shiny and wonderful and must stop to look and be in your way and love...
The Top Ten Things to Know about Florentine...
Still on the cliff hanger. I have a cold. Blogging is reaching an all-time low since the start of the spring semester. However, a letter to a friend turned into a list. And I have decided to turn that list into my list of wisdom about Florence. Also a throwback to my much missed 'Top Ten' radio show. 1. Gelato is wonderful. You should eat it all the time. Especially after your 8am....
Today, I finally booked things. I booked a disturbingly expensive flight to London. And an awesomely cheap Spring Break to Dublin, Brussels and Berlin. I feel so worldly. Will blog more after I've eaten. Must eat. Love food.
This morning, my roommate and I spent about 3 minutes in an elevator trying to understand why it wouldn't take us to our floor. An Italian woman then pointed out the sign on the door (written in Italian I might add) that said it did not work and to use the stairs.
My first Italian Conversation w/ hot supermarket...
Me: Ciao, come sta? (hello, how are you?) Hot guy: E' mal/me (..not entirely sure what he said but he wasn't happy) …dormo (also said something about sleeping) Me: Anch'io (Me too, also I giggled a bit - it had to be done) Hot guy: ………….. (Do you need a bag?) (He had to point to the bag) Me: oh, si! Grazie. (I awkwardly pay and walk over to my...
Fare una doccia. Literally, to make a shower.
Today, I would like to sit down and talk to everyone a little bit about showering. I love to shower. I love feeling clean. I love soap. I love smelling nice.  And, now in Italy, I absolutely hate hate hate hate despise hate hate hate showering. The first few days went fine. Granted, there wasn't much water pressure and I was having a bit of an issue shaving, but I did not complain because I...
3 tags
We did not take pictures at the IKEA. It ended up being one of the most frustrating experiences. We were supposed to take a free shuttle from the train station to IKEA. Instead, because no one spoke English and they pronounce I-KEA, "E-KEE-AH" we ended up on a bus to, and, excuse my language, bumble fuck nowhere. I've never been so nervous. We were getting further and further...
"What's Up? What's Down? What's going on?"
I love this city. I love my classes. I love being here. But, there are definitely some frustrating parts of being abroad in a foreign country, and, especially when they do not speak English. Of course, there are plenty of people who can follow what I'm saying and will help me and commend me when I speak Italian, but it can be difficult. Today, all I wanted to say was "I want a little...
Fa Freddo. Fa. Molto. Molto. Freddo. tutto tempo
(It's cold. It's very very cold. All the time) I'm not actually sure if that's the correct way to say it, and, honestly, I planned on writing about something else. I want to talk about my awesome classes and the awesome food and my awesome life (I'm rude) and how much fun I am having learning about Florence and the culture. But, I can't right now. Non posso....
takewant asked: so i dont know how to reply to your reply lol
sooo I'm answering here!
I am deece =] miss being home of course.
but talking about being away from home..HOW ARE YOU??? hows Italy and all that stuff!
Bank of America has frozen my account for irregular activity. Thank you, Bank of America.
A sad realization today. I cannot access hulu or the SNL website to view my favorite tv show. I will be so behind on my SNL tv. And Dana Carvey hosts next weekend!
6 tags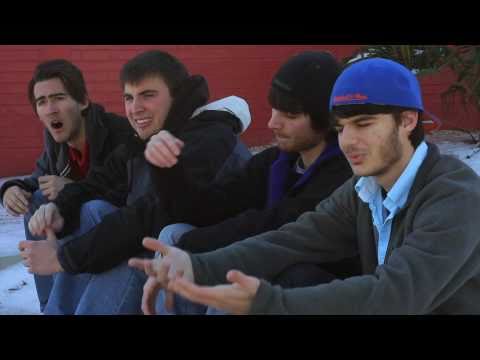 Trying to determine how to get from downstairs to upstairs without moving. Will be in touch on progress.
The other night I tried to locate all my classrooms in Florence on a map. I only found two of them…I'm taking five classes…they appear to all be in different buildings on different streets.